A Description of the Commis Chef Job role? 
The commis chef is the junior chef in professional kitchens who is managed by a chef de partie. They will learn a specific section of the kitchen's responsibilities and operations. They may have completed a formal culinary qualification or in the process of completing one.
"May have just finished culinary training."
What Is A Commis Chef?
There are two main levels of Commis chef:
Commis chef – Will be learning a specific section of the kitchen working under a chef de partie. Also, they will be doing basic jobs whilst learning how the section operates.
First commis chef – Will be the most experienced commis within the kitchen brigade. Furthermore, they will have an understanding of the sections and will oversee the rest of the commis chefs within the brigade.
Want To Skip Ahead?
An Explanation Of The Kitchen Brigade Position | Commis Chef
The Commis Chef will be employed by an establishment that uses a commercial-grade kitchen, which will include a restaurant, hotel, or cruise ship.
The NVQ Level 2 in cookery
Including answers to the questions:
How much does it cost?
Must the 30 hours minimum be supervised as I might spend some hours working under the Head Chef and other hours in the kitchen on my own?
Can the qualification be completed anywhere in the UK?

What Is A Commis Chef? – The Start
A commis chef is a position at the bottom of the kitchen brigade and the start of a successful chef career path.
Every chef has started on this step of the ladder no matter how successful they are now.
Even the high profile celebrity chefs including, Gordon Ramsay, Jamie Oliver and Marco Pierre White all started their careers as commis chefs.A commis chef will be doing the dirty jobs such as passing stocks, peeling potatoes and picking spinach.
All the commis chef skills learnt will help to build a solid base for a chef career.

Also, a commis chef who has attended a college course at catering college will be ahead of any other commis chef who has not.
Is A Qualification Required?
Although it is not a requirement to attend college it needs to be taken into consideration. Also, college training will get the chef introduced to the many tools used in a professional kitchen.
What To Be Aware Of When In The Professional Chefs Kitchen
Once in a professional kitchen, you will need to practice using the tools of the trade. Although it can be daunting to use a piece of equipment that is new, it's recommended to learn as much as you can.
Kitchen tools will differ from kitchen to kitchen, such as a vacuum packing machine in one workplace may be a different brand to another. However, they will all do the same job.
The essential tools including; knives and chopping boards can also be useful in the home kitchen. And the knives that chefs use are very important to do the job with.
Selecting The Correct Knife
Each job will have a specific knife that is suitable for the job. This may be a chef's knife (chopping knife) used for the rough chopping of root vegetables. Or a 12-inch serrated knife used to portion a quiche.
Using the kitchen tools correctly and safely is important to prevent any accidents. My tip here is to ask a question if you are unsure how to use a piece of equipment.
Kitchen Fails And Accidents
We've all made mistakes in the kitchen. Recipes that have not had the results you were expecting, but may have resulted in something just as tasty. Or maybe a burnt food or a nasty cut.
And the professional kitchen is no different. At some point, all chefs are going to have an accident! This may be a deep cut or boiling water being dropped that results in the chef getting scalded.
In the kitchen, there are many health and safety precautions put in place to prevent accidents.
All kitchen staff will be trained in health and safety at some point. Also, you need to remember that kitchens are dangerous places to work and be aware of this at all times.
A trip or a slip can cause serious injuries with people being out of work for long periods of time.
All commis chefs will be trained so they know what to do if an accident happens.
Slow Cooking For Great Results
A Top Commis Chef Cooking Skill
A cooking technique that is relatively easy to pick up and produces great results is the slow cooking method. Meats such as pork belly, shin of beef or lamb leg are all suitable for slow cooking. This technique is fantastic to produce foods that are tender and full of flavour.
Although, slow cooking is not just for professional kitchens. It is possible to reproduce the slow cooking method in home kitchens too. Remember to be careful when slow cooking, as the food will be covered in very hot liquid.
With practice, you will be well on your way to becoming a chef in the UK.
A Job Description, The Responsibilities And Duties Of A Commis Chef.
The most common of establishments where this position is employed will be a restaurant and hotels followed by cruise ships.
The culinary position of commis chef comes with a lot of responsibilities and duties.
These will be the basic jobs within the kitchen and they will report to the chef de partie of the section.
Commis chefs who are successful in this position will quickly learn an in-depth familiarity with sections operations.
They can then fill in for the chef de partie when needed.
And also assist them in resolving any problems that may occur in the section.
What Is A Commis Chef Responsibilities?
Commis chefs will be responsible for the basic prep work for the section. They need to keep the section organised and tidy and follow the health and hygiene regulations.
They will also be responsible for any other duties laid out within the commis chef job description following the company's policies.Most of all the commis chef will have the responsibility for the food preparation that they have been directed to do.
They will be directed by the chef de partie in charge of the section. They will also need to be aware of any problems that may occur in the section.
The issues will need reporting to the chef de partie in charge. Commis chefs will also have a responsibility to follow any other orders from senior members of the kitchen brigade.
What Do They Do In The Kitchen?
The commis will be assisting the chef de partie of the section. First commis chef This is a position mainly in large establishments overseeing the commis chefs.
Furthermore, the first commis will be well on their way to a promotion to a chef de partie.
What Is The Average Commis Chef UK Salary?
A commis chef is the lowest level chef job within an establishment and the salary reflects this.
Even after finishing culinary training, the commis will be starting on the basic salary. What is a commis chef salary?
Kitchen position salaries depend greatly on the establishment, the location and the previous experience of the commis chef.
Below is an average salary of a commis chef within the UK
Where Can A Commis Chef Go From Here?
Every chef will have started at the commis chef level.
As a result, there is no reason not to have a vision for your career going all the way to the top.
What Are The Progression Options?
The natural progression from this position is to a demi-chef de Partie, chef de partie ( the chef in charge of a section).
And from here onto the sous chef role and head chef position. And in some kitchens, progression will be faster than in other kitchens.
It is reasonable to stay in this position for 3-5 years to do all the groundwork needed for a successful career.
My Experience As A Commis Chef
I became a commis chef in 1997 having spent one year washing up as a kitchen porter. I started this position in a very busy restaurant in Cambridge with a bistro-style menu.
One of my first jobs included washing and preparing salads. lollo blonco , frisee, oakleaf, baby gem and cos lettuce for the caesar salads.
Opening Oysters For The First Time
I also had the job of opening oysters! Having never seen an oyster at this point let alone opening one of the things. This was a learning curve and I'm amazed I never cut myself badly doing so.
Overall as a commis chef, I learnt a lot of the basic skills. Working in a busy kitchen also helped me to develop my organisational skills.
10 Jobs Of A Commis Chef
The Chef Ranks And 10 Commis Chef Jobs?
Firstly, the kitchen brigade is made up of a hierarchy of chefs.
However, the number of chefs in each position will depend on the size of the kitchen brigade and how the head chef operates their kitchen.
In addition, if you make a mistake, just keep going and try again until you get the job right.
Even the best chefs out there have made kitchen fails at some point.
Head Chef
The 'boss' of the kitchen. The Head Chef will have control over the running of the kitchen. This may include, ordering stock, a role in employing and sacking staff, writing menus.
Sous Chef
The sous chef is the right-hand person of the Head Chef. The Sous Chef has many of the same jobs as the Head Chef.
Chef de Partie
The Chef de Partie's will be doing the day to day running of sections within a kitchen. In addition, this may include: preparing, cooking food, supervising junior chefs and making order lists on the section.
Commis Chef
The Commis Chef will be doing the basic jobs within a professional kitchen.
To Start As A Commis Chef
A chef will start their career as a commis chef in a professional kitchen. All chefs have started in this position even after formal qualifications.
In the commis chef position, all the basic skills will be practised and learnt or improved upon, from what the commis chef has already learnt on a culinary training course.
Learning the commis chef job role can be a great learning experience and some days can be hard. This is all expected when learning how to become a chef.
Top 10 Jobs Of A Commis Chef
Peeling Potatoes
First of all commis chef's will be peeling potatoes and there are many varieties that may be used. Common potato types used by chefs include Maris Piper, Charlotte and Sweet potato.
Tip- Use a speed peeler to peel potatoes efficiently.
Peeling onions
There are a variety of onion types that will be used. Varieties include Spanish onions, red onions and shallots. Onions are the main ingredient and preparing them is one of the big jobs of a commis chef.
Tip – Learn and practice cutting onions.
Picking and Washing spinach
Spinach can come in packets, such as baby spinach. The spinach will still need washing, even if arriving in packets. With spinach, make sure the stem is picked out.
Tip – Do not over-salt spinach when cooking.
Picking and washing salad
A commis chef will be picking and washing salad. There are many types of salads including – frisee – baby gem – Lolo Rosso – lollo blanco and oakleaf.
Tip – Always pay close attention to picking out all of the bad salad leaves.
Cleaning – fridges etc
Fridges need to be kept clean and organised at all times.
Tip – Clean around the seals inside the fridges well.
Passing stocks
Stocks will be made by chefs and one of the commis chef jobs may be passing the stocks through a fine chinois or muslin cloth. And this will remove all of the unwanted bits in the stock.
Tip – When passing through a fine chinois, use a ladle to tap the top of the chinois.
Peeling vegetables
There are many types of vegetables that will need peeling. This will include standard vegetables and baby vegetables such as baby carrots.
Tip – Use a good quality speed peeler for efficient peeling.
Preparing Vegetables
There are many types of vegetables that will need to be prepared by the commis chef. Also, there is a broad range of techniques the commis chef will need to learn to prepare vegetables. And a full range of knife skills will need to be developed.
Furthermore, you will need to learn the different preparation methods for a range of vegetables.
Tip – Always have a sharp knife and learn how to sharpen it.
Furthermore, remember to be patient when learning knife skills as it will take lots of practice to gain these skills.
Basic cooking – Blanching vegetables – Deep frying foods
A commis chef will need to learn the correct cooking times for vegetables and how to check when they are cooked. Also, a deep fat fryer may be used for foods such as chips or battered fish that the commis may be responsible for.
Tip – When blanching vegetables use a good amount of salt in the blanching water to help bring the flavour out of the vegetable.
Picking / Chopping herbs
Chefs will be using many types of herbs. Also, these herbs will include parsley, chive, basil, and coriander.Tip – When cutting herbs it's best to cut them once and do not over chop the herbs.
The standard chopping board colour system used in kitchens uses a green board for herbs. For more on the colour coded chopping board system
In conclusion, these are my top 10 kitchen jobs as a commis chef. Also, there are many kitchen jobs a commis chef will need to learn and practice.
Good practice of all of these commis chef jobs will give a good standard of basic skills.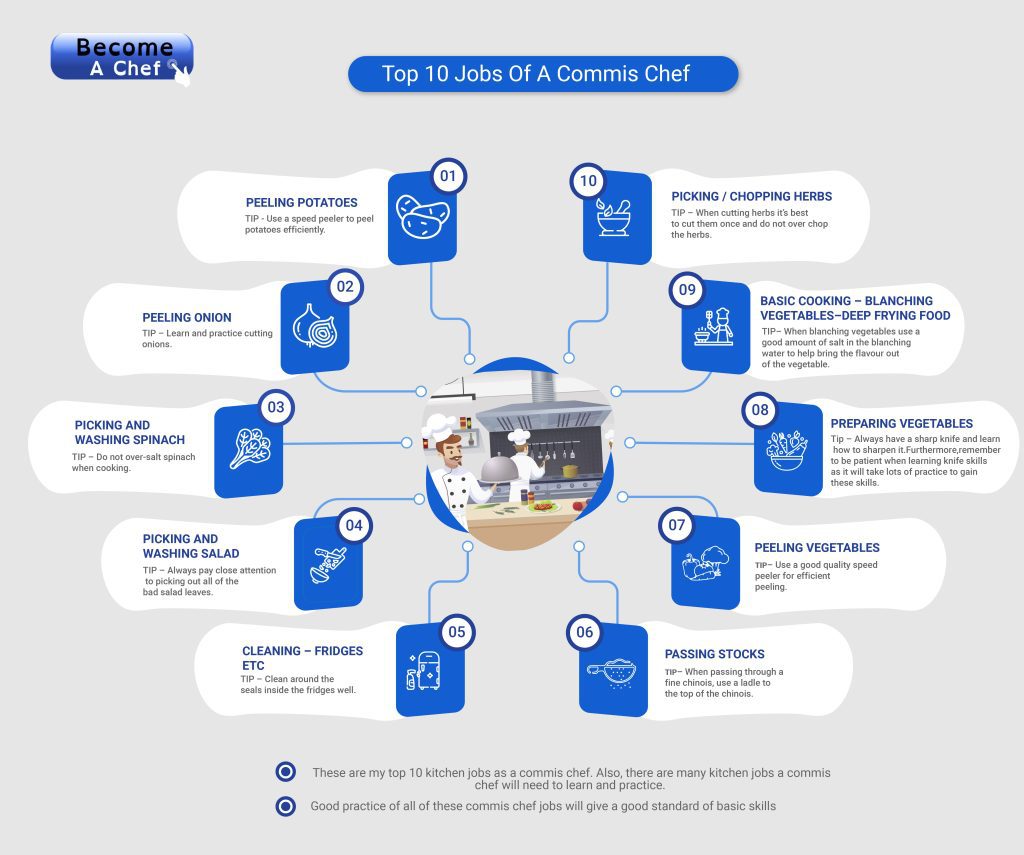 The Uniform A Commis Chef Will Wear Is Also Known As The chef's whites
The uniform that a commis chef wears is known as the chef whites.
To follow is a guide to getting to know the chef uniform.
Chef wear or chef whites are the traditional names for the uniform. But nowadays the uniform can be altered to fit in with the branding of the individual companies. However, the traditional name has never changed.
Today's up to date chef's uniform is designed for the chef's comfort and safety in mind. Also, the chef uniform needs to adhere to certain strict Health and Safety regulations which include:
The materials are fire retarded;

The chef wear will protect from splashes, spills and burns;

Non-Stick safety shoes need to be worn and ideally with a steel toe cap due to safety when lifting heavy objects.
The chef uniform remains a standard in the food industry and the tradition of wearing the uniform dates back to the mid-19thcentury.
Why Do Chefs Wear Chef Whites?
The Traditional Uniform Worn By The Kitchen Brigade.
Consequently nowadays with advances in materials the chef wear is a lot more comfortable for the chef's, and with safety in mind. Sticking to the strict Health And Safety Regulations.
Marie-Antoine Careme, is credited with developing the current traditional chef's uniform. A famous chef from the 19th Century
A Brief History Of Chef Wear / Whites
The kitchen brigade wears a traditional uniform called the chef whites/uniform.
Chef wear includes a traditional hat called a toque, a white double-breasted jacket and checkered / cargo pants.
Chef whites have developed and nowadays are designed for the comfort of chefs.
"The 100 folds of the chef's hat (torque) are said to represent the many different ways a chef knows how to cook an egg"
What Clothing Makes Up The Chef's Uniform?
Chef Trousers
Checked and Black Chef Trousers Are Used In The UK
The trousers are checked or black and made of a light comfort fitting material. And the dark colours will conceal minor stains which signify cleanliness.
Chef Jackets
Chefs Jackets Can Be Custom Made Or Personalised
Because the jacket is double-breasted it can be reversed due to the ability to hide stains. The light material helps to keep the chefs comfortable when working next to the heat of the stove and oven.
And also protects from boiling liquids. Also, the jackets use stud buttons so they can be removed before the frequent washing that the uniform will go through.
The Two Main Types Of Chef Hat Are The Traditional White Hat And Skull Caps
The chef's hat toque is available in different heights which may indicate a rank within the kitchen.
Chef hats were already in use, but he designed a uniform to honour the chef. To symbolise cleanliness he chose the colour white.
Georges Auguste Escoffier brought the traditional chef coat to London when he managed the Savoy hotel and afterwards the Carlton Hotel.
Professional Chef Aprons
The Types Include The White Apron, Bib Apron, And Customised Aprons
The reasons why chefs wear a cooking apron include;
The aprons will keep the chef's clothing free from dirt stains and odour's.

Aprons will be changed quickly when needed.
Aprons come in many different styles, the striped bib apron or white apron will be used. Customised designs are also great to fit with the companies branding.
Commis Chef Shoes
The Best Chef Shoes Will Be Comfortable And Non-slip
It is very important to choose a comfortable pair of shoes to wear in the kitchen. As the chefs are on their feet for the whole day and a great pair of shoes will help with the comfort of the chef.
Non-slip soles are essential due to the hazards within a busy kitchen environment. And also a padded inner sole for the shoe for best comfort.
The Chefs Uniform
The chefs uniform also known as the chef whites is a traditional uniform, with the more modern style dating back to the 19th century.
However, chef whites have improved a long way since the 19th century.
The chef's safety and comfort are essential for the health and safety of the kitchen brigade.
Up to date regulations and laws have improved this no end and will keep on doing so. The uniform now uses more comfortable materials that are easily washable.
A great set of chef whites is crucial for anyone becoming a chef today with a great comfortable pair of shoes.
The Best Kitchen Uniform And Clothing For Chefs
Professional chefs wear a uniform in the kitchen to follow company guidelines and health and safety rules.
Such as steel toe cap shoes to protect the feet from heavy objects. Chefs uniforms can also be known as chefs whites.
To follow are the items of clothing that make up the professional chefs uniform.
A description of the best kitchen clothing making up the kitchen uniform as worn by chefs and used in busy professional kitchens. Furthermore, chefs use specific kitchen tools to work correctly.
Chef Jackets
There are many types of chef jackets to choose from, with various styles and colours available. Chef jackets are designed for comfort in the professional kitchen.
The main types of the jacket include White with short or long sleeves and black with short or long sleeves.
Chef Trousers
There are two main types of chef trousers I have used and recommended highly throughout my career working in busy professional kitchens. My personal favourite being the black cargo style trousers.
The two highly recommended trouser types being the blue and white check trousers and the black cargo style trousers.
Chef Knives
Professional chef's use a range of knives. These chef knives are specific to each job the chef needs to do.
Chef shoes
A comfortable shoe is essential, due to long hours standing. Using an inner sole will help for the long hours standing. There are two types of shoes for wearing in the kitchen.
Shoe 1: The lace-up safety shoe with steel toe caps;
Shoe 2: The clog style shoe with cork soles.
Both shoes are very comfortable and are highly recommended.
Chef Hats
Chef hats are used to keep hair from falling into the food whilst cooking.
There are two recommended types of the chef hat
The Cloth skull – cap
The cloth skull cap is a great style of hat to wear in the professional kitchen, easily washable and come in various sizes and a range of colours.
Hats (Disposable Paper)

The disposable paper hats are used once and then disposed of. They come in a range of sizes.
Commis Chef Career Progression
To follow are answers to some questions you may have on the chef career path and progression.
What's The Difference Between Working In A Hotel, Restaurant Or A Chef Agency
When you are deciding on the route to take to become a chef and get onto the chef career path there are a few things to consider.
Firstly, where are you going to work?
Working as a chef in a hotel, restaurant, gastropub or fine dining restaurant will vary on what you will learn. And career progression is more available in larger workplaces.
Hotels can be more structured in their development of chefs.
The 5-star hotels are the best to get into as many positions become available as chefs may have the option to move around the different outlets of the business. And mainly have very good career development programmes.
This makes promotion easier without needing to change the workplace so often. In addition, this is great for anybody looking for a stable chef career.
Other smaller places simply do not have as many opportunities. So by getting into the best quality work place you can, such as fine dining.
It is a lot easier to drop down in level later on, however very difficult to move up without any basic fine dining training.
The Commis Chef Interview – Sample Questions And Answers
As a commis chef going for an interview can be a daunting experience. Due to it being the first time you have been through the all-important interview process.
Also by practising sample Commis Chef Interview Questions And Answers is going to help.
On a successful application, an interview is a next step in the process. And it is essential to be well prepared and confident in your interview. Things to remember as you prepare for the interview include:
Becoming a Commis Chef in the UK | Interview Tips
Preparing for a career in the culinary industry involves a substantial amount of study and hands-on hard
work.
Despite all the time and effort you've invested in training and honing your craft in the kitchen, that may not even be the most difficult part of embarking on the journey to becoming a chef in the UK.
Once you've obtained the necessary skills to go job seeking, you still need to successfully make it through the interview. Try these chef interview tips before your interview.
You may find it incredibly nerve-wracking to present yourself in the right light to potential employers, there is a method to the madness.
Being well prepared can mean the difference between making a whiz-bang impression and slinking out with your tail between your legs.
If you plan beforehand for how you will handle tough chef interview questions, you will be able to put out a confident and knowledgeable vibe that's sure to help you land the job.
First Things First
Regardless of whether you're interviewing to be a caterer, commis chef, chef de partie, sous chef, or kitchen manager, you want to follow some basic guidelines.
Research the establishment and be ready with some questions of your own.
Read the menu and plan a dish to prepare, practising in advance
2. Wear clean, pressed clothing (bring along fresh chef whites if going to a working interview)
3. Plan to arrive a few minutes early, accounting for unexpected traffic or other delays
4. Turn your mobile phone off
5. Always shake hands with the interviewer, and politely accept a drink if offered
6. Use proper grammar and refrain from slang or swears
If you're attending a working interview, engage as part of the team. Furthermore, it is good practice to request tasks rather than standing around when you don't have anything to do.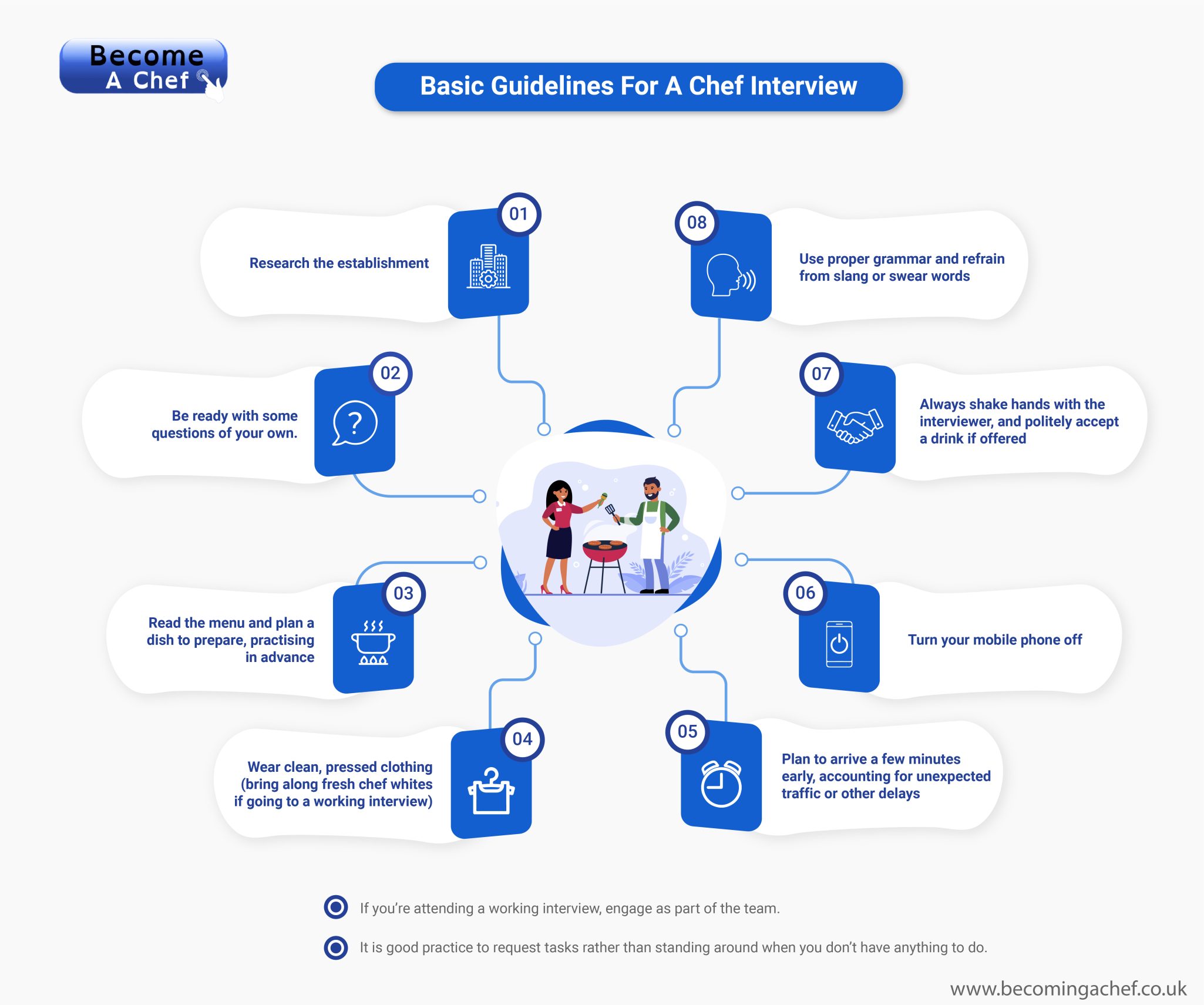 Sample Interview Questions And Answers
Potential Chef Interview Questions
While situational questions are tougher to prepare for, there are other inquiries that are fairly typically asked by most employers interviewing someone who seeks to become a chef in the UK.
These may include:
1.What do you consider your strengths and weaknesses?
2.What type of personality would you describe yourself as?
3.Do you prefer to work alone or in conjunction with a team?
4.What kind of salary are you looking for?
5.Where do you see yourself several years down the road, career-wise?
6.What activities do you enjoy besides cooking?
7.Do you need any specific holidays or routine days off?
Consequently, your education is only half the battle when it comes to securing a culinary job in the UK.
8.Being self-confident and prepared will put you over that edge and give you a leg up on your competition.
9.Practice your interview technique through role-plays, this will build your confidence.
10.Be smart in your appearance.
11.Also, practice mock interview questions with sample questions and answers;
12.Know what you should be done at the end of an interview and how to answer the dreaded question ' Do you have any questions for me?'
13.And learn how to use the STAR method for answering difficult situational interview questions.
Commis Chef Interview Questions And Answers
To follow is a Sample commis chef interview question and a sample answer.
And I will then explain what a situational interview question is and how to answer them correctly.
Tell Me About Yourself?
A sample response
"My strong points are that I am focused, organised and a team player. For example whilst working for my current employer I was successful in being promoted to a commis chef within 6 months of starting in the kitchen as a kitchen porter.
I like to keep a balance between my personal and professional life, this helps me to maintain my high standards at work.
Currently, I am studying a diploma course to help with my self-development and career progression. My hobbies include playing the guitar and enjoy cross-country running.
I also recently helped with the cooking at a charity function for a local charity during my days off.
Overall I would say I am a reliable, focused and hardworking person who is always looking for ways to develop."
Tip
It is not necessary to go into too much detail, however, the interviewer may want you to expand on some points if they need more information.
What Are Situational Interview Questions?
For situational interview questions, it is a great idea to practice with sample interview questions. The questions need to be answered in a well-structured way. Showing off any relevant experience the commis chef has.
Furthermore, a situational interview question will be asked so the interviewer can see how you reacted in a previous situation.
How you reacted to a situation in the past is a strong indication as to how you will react to the same situation in the future.
As a commis chef, this may be your first interview and you have a small amount of experience to answer these questions. Although there are ways to answer these questions with the experience you have.
The S.T.A.R. Method For Answering Difficult Interview Questions
The S.T.A.R. method is an effective technique for answering difficult interview questions. And this method will help you to structure a positive answer to this form of interview question.
Many of the interviews being held will require the candidate to not only answer the interview question. And also to give evidence of where they have implemented the skill that is relevant to the chef's role.
An example of the type of question you may be asked will be where the STAR method can be applied:
"Can you give me an example of when you have worked as part of a team?"
"Have you ever been asked to train a member of the team?"
It is very easy to say-
"Yes, I work as part of the team every day as a chef de partie on the starter section".
Or
"Yes, I am often asked to train new chefs on a section when needed without hesitation".
Anybody can give answers like this, but we want to stand out and give a structured answer with evidence to prove what we are saying. Also, this is where we will use the S.T.A.R. method.
The Star Method
S – Situation
T – Task
A – Action
R – Result
Situation – To respond to the interview question we will start with the situation.
Task – Now explain the task that you and the other people were required to do.
Action – Now explain the action that you and the other people took. It is crucial that you explain the action that you took.
Helping The Overall Result
Also, be specific about the action and make sure your actions stand out from the other people. So within the action answer, the key evidence needs to be detailed and how your direct action helped in the overall result.
Result – It is recommended that the result will show your actions in a positive way. So the action you took directly helped to complete the task that resulted in a positive outcome.
And a tip at this point is to add a sentence on how you could improve upon the positive result the next time the situation arises.
Key Questions To Consider Asking Employers About The Commis Chef Role
When applying for your future chef role on the chef career path, there are a number of things, you will need to know.
You need to find out areas such as, –
Do you pay overtime?

How many extra hours are chefs working?
It's great to be passionate about your job and add value by working extra hours for the team. However, do you really want to be working extra hours on a regular basis with no compensation! This is a great point to practice those negotiating skills.
It's a case of doing your job with passion correctly which all chefs want to do. However, it's not good to be taken advantage of by employers. Make sure you are clear on this and find out what is in the contract.
If an employer is refusing to add any compensation for overtime then this needs to be considered carefully. Also, if you are working a lot of hours day after day and being paid for it, don't forget to take breaks. Everybody needs to take time off!
How to Get Along with Your Work Colleague And Co-Workers
Getting along with your work colleagues is very important to move a chef career forward. The way a professional kitchen is made up will all depend on the chefs who are working there.
Some pro kitchens will have a social style others a more food experimental style it all depends on the management style of the business.
Because of this, there will be some kitchens that a chef will fit into easily and get along with their work colleagues. And others that they will not. Also, it's good to get into kitchens that you fit into and get along with your colleagues.
Finding The Best Team To Progress As A Commis Chef
By trying to force yourself into a team that you don't fit will hold a chef's career progression back. And this will cause issues and I would always walk away from a kitchen/business that doesn't suit my style.
Usually, a chef will be on a 3-month trial period where the chef and the kitchen/business can get a feel for each other. This is the main point to consider, and start from a good base to build upon.
Asking For A Pay Rise When Developing And Progressing A Chef Career
Every chef is going to get to a point on the chef career path where they feel ready for a pay rise or promotion. And asking for a pay rise needs to be handled carefully, professionally and done with respect.
Head chefs or businesses owners are mostly not going to go up to chefs and say; "Here you go take more money and have a promotion"!! This is simply not going to happen.
How To Give Your Case
The chef needs to arrange a meeting to speak to the manager in charge, the head chef or the business owner. And once a meeting has been arranged to make sure you have a strong case for your pay rise.
Consider this; a chef walks up to their manager and demands a pay rise saying; "I want a pay rise or I will leave, I work hard to do extra hours and should be paid more".
This will get straight to the point. However, it is not structured respectfully.
On the other hand, a chef sets up a meeting professionally with a strong case as to how they have added to the business.
Also, the chef shows a commitment to the company. Although kitchens can be pressured workplaces it's best not to explode in demands and rudeness.
To find the place that suits your skills
To find the work that suits your skills and personality well. Professional kitchens can be managed in different ways. Some will have a strong, work hard and then work harder and harder.
These kitchens can generally have a high turnover of staff due to the unwanted pressure being put on the staff.
A Few Final Thoughts On Th Commis Chef Role And Progression
There are many ways to get into the hospitality industry as a commis chef. And you should consider the various routes carefully. In addition, Hotels, restaurants, event caterers and fine dining restaurants all have their own advantages and disadvantages.
A chef who finds it difficult to fit into one of these workplaces can absolutely nail it in another. I would recommend that anybody getting into the industry or currently in it.
However, this style will suit some chefs well. Other kitchens have a more relaxed approach and focus on the development of chefs in a different style.