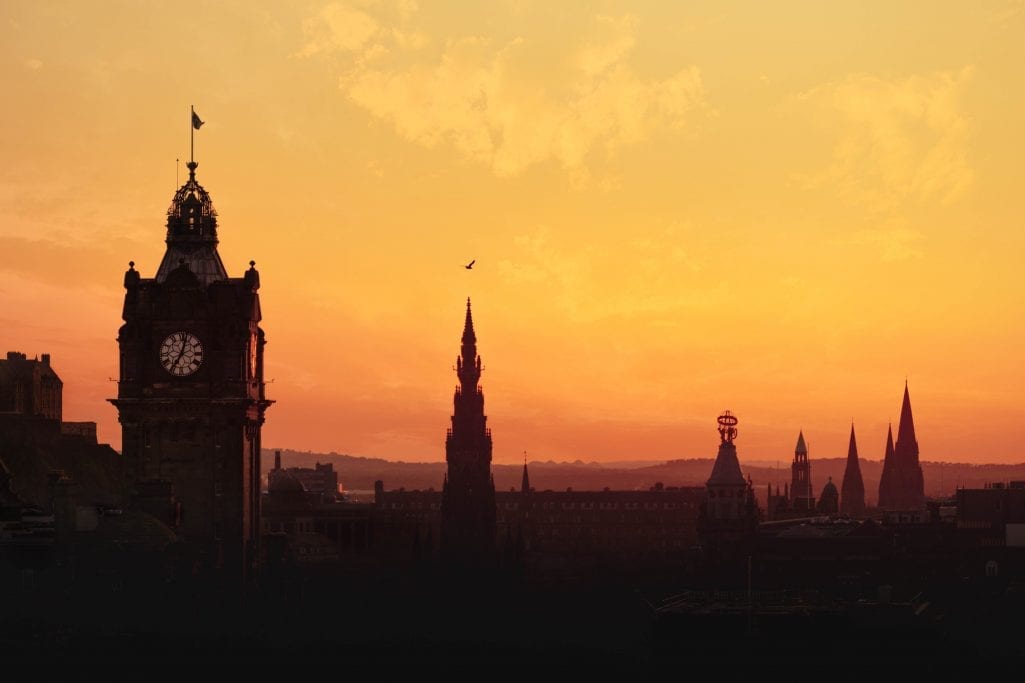 An introduction to working in Edinburgh
Want to skip ahead?
An Introduction To Living & Working In Edinburgh
Edinburgh is one of the most beautiful cities in Europe. The city has 4 – 5 AA Star Rated hotels, With the excellent range of hotels in the city, makes this a great choice to further or get a chef career started. With many attractions including Edinburgh castle to explore around the city.
Best AA Rated And Luxury Hotels In Edinburgh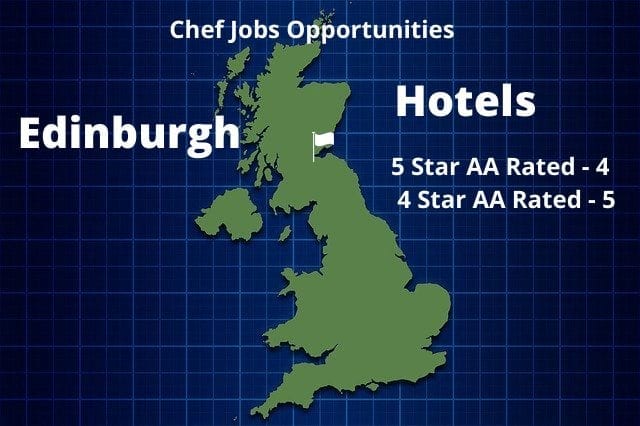 Restaurants In Edinburgh
Finding Accommodation And Living In Edinburgh
Finding accommodation in Edinburgh can be done relatively easily. Searching for property rental websites online will produce good results.
An Indication To Rental Prices In Edinburgh
1 Bedroom Flat – Central Edinburgh Starting at: £550/ Month
1 Bedroom Flat – Outside Central Starting at: £400 / Month
3 Bedroom Flat – Central Edinburgh – Starting at: £1000/ Month
3 Bedroom Flat – Outside Central Starting at: £ 780/ Month
Transportation Around Edinburgh Costs
One day travel card for bus or train – £4.00
Monthly travel card for bus or train – £45
Average Working Hours Of A CDP
The average working hours for a CDP will range from 40 – 48 hours per week. Overtime can be added as days in lieu or paid for. Normally, with 28 days paid holiday per year.
This all depends on the company you are working for. It's a good idea to check how extra hours and days are compensated for during the job interview.
A Chef de partie Salary Range In Edinburgh
Average Salary in GBP/Yearly: £23,000
The salary ranges around £21000 – £27500
Agency Salary: (PAYE) £12 – £14 per hour
To Work Out An Average Salary After Tax

For £23000

Personal Income Tax Free Allowance = £12570

Basic Rate Tax = 20% (After Personal Allowance Deduction)
Monthly Salary Calculation
£23,000 / 12months = £1,916 Monthly Before Tax
Example Of Working Out A Salary After Tax
Personal Allowance first £12570 (free no tax)
20% Basic Tax Rate after £12570
Calculation – £23000 – £12570 = £10430
To be taxed on £10430
£10430 / 20% = £2860
Salary After Tax Result
£23000 – £2860 = £20140
£20,140 Yearly
£1,678 Monthly
Top 10 Things To Do In Edinburgh As Ranked By Tripadvisor Travellers
Edinburgh is an incredible place to start or further a chef career in luxury hotels. Outside of London this city holds the highest number of  5 Star AA rated hotels.
With many bars and clubs and a lively nightlife there plenty of places to relax with friends. To follow is a list of the top 10 attractions in Edinburgh as ranked by Tripadvisor travellers.
Arthur's Seat
National Museum Of Scotland
Edinburgh Old Town
Palace Of Hollyroadhouse
Camera Obscura And World Of Illusions
Royal Mile
Edinburgh Castle
The Real Mary King's Close
Pickering's Gin Distillery