10 Commis Chef Jobs
That A Commis Needs To Learn 
The top 10 commis chef jobs? Firstly, the kitchen brigade is made up of a hierarchy of chefs. And the traditional most common used system is the one shown below. However, the number of chefs in each position will depend on the size of the kitchen brigade and how the head chef operates their kitchen. In addition, if you make a mistake, just keep going and try again until you get the job right. Even the best chefs out there have made kitchen fails at some point.
Head Chef           x 1
The 'boss' of the kitchen. The Head Chef will have control over the running of the kitchen. This may include, ordering stock, employing staff, sacking staff, writing menus.
Sous Chef           x1
The sous chef is the right-hand person of the Head Chef. The Sous Chef has many of the same jobs as the Head Chef.
Chef de Partie     x3
The Chef de Partie's will be doing the day to day running of sections within a kitchen. In addition, this may include: preparing, cooking food, supervising junior chefs and making order lists on the section.
Commis Chef      x2
The Commis Chef will be doing the basic jobs within a professional kitchen.
Commis Chef
A chef will start their career as a commis chef in a professional kitchen. All chefs have started in this position even after formal qualifications. In the commis chef position, all the basic skills will be practised and learnt or improved upon, from what the commis chef has already learnt on a culinary training course. A commis chef's jobs in a professional kitchen will include:
10 Commis Chef Jobs That A Commis Chef Needs To Learn
Peeling Potatoes
First of all Commis chefs will be peeling potatoes and there are many varieties that may be used. Common potato types used by chefs include 'maris Piper', King Edward and a sweet potato.
Tip – Use a speed peeler to peel potatoes efficiently.
Peeling onions
There are a variety of onion types that will be used. Varieties include Spanish onions, red onions and shallots. Onions are a main ingredient and preparing them is one of the big jobs of a commis chef.
Tip – Learn and practice cutting onions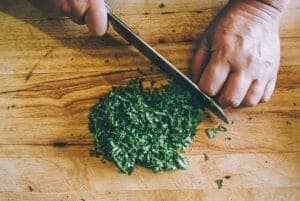 Picking and Washing spinach
Spinach can come in packets, such as baby spinach. The spinach will still need washing, even if arriving in packets. With spinach, make sure the stem is picked out.
Tip – Do not over salt spinach when cooking.
Picking and washing salad
A commis chef will be picking and washing salad. There are many types of salads including – frisee – baby gem – Lolo Rosso – lollo blanco and oakleaf.
Tip – Always pay close attention to picking out all of the bad salad leaves.
Cleaning – fridges etc
Fridges need to be kept clean and organised at all times.
Tip – Clean around the seals inside the fridges well.
Passing stocks
Stocks will be made by chefs and one of the commis chef jobs may be passing the stocks through a fine chinois or muslin cloth. And this will remove all of the unwanted bits in the stock.
Tip – When passing through a fine chinois, use a ladle to tap the top of the chinois.
Peeling vegetables
There are many types of vegetables that will need peeling. This will include standard vegetables and baby vegetables such as baby carrots.
Tip – Use a good quality speed peeler for efficient peeling.
Preparing Vegetables
There are many types of vegetables that will need to be prepared by the commis chef. Also, there is a broad range of techniques the commis chef will need to learn to prepare vegetables. And a full range of knife skills will need to be developed. Furthermore, you will need to learn the different preparation methods for a range of vegetables.
Tip – Always have a sharp knife and learn how to sharpen it. Furthermore, remember to be patient when learning knife skills as it will take lots of practice to gain these skills.
Basic cooking – Blanching vegetables – Deep frying foods
A commis chef will need to learn the correct cooking times for vegetables and how to check when they are cooked. Also, a deep fat fryer may be used for foods such as chips or battered fish that the commis may be responsible for.
Tip – When blanching vegetables use a good amount of salt in the blanching water to help bring the flavour out of the vegetable.
Picking / Chopping herbs
Chefs will be using many types of herbs. Also, these herbs will include parsley, chive, basil, and coriander.
Tip – When cutting herbs its best to cut them once and do not over chop the herbs.
In conclusion, these are my top 10 kitchen jobs of a commis chef. Also, there are many kitchen jobs a commis chef will need to learn and practice. It is recommended to practice all of these commis chef jobs to have a good standard of basic skills.
(Visited 456 times, 2 visits today)